La distribuidora de Konnichiwa Festival publicó el día de hoy en sus redes, el trailer para la película de Kaguya-sama: Love is War con doblaje al español latino, mismo que puedes ver en el encabezado de la nota.
El filme titulado Kaguya-sama: Love is War – The First Kiss That Never Ends se emitirá por medio de la cadena Cinépolis de México los días 10, 11 y 12 de febrero de forma subtitulada y el día 16 de febrero con su doblaje al español latino.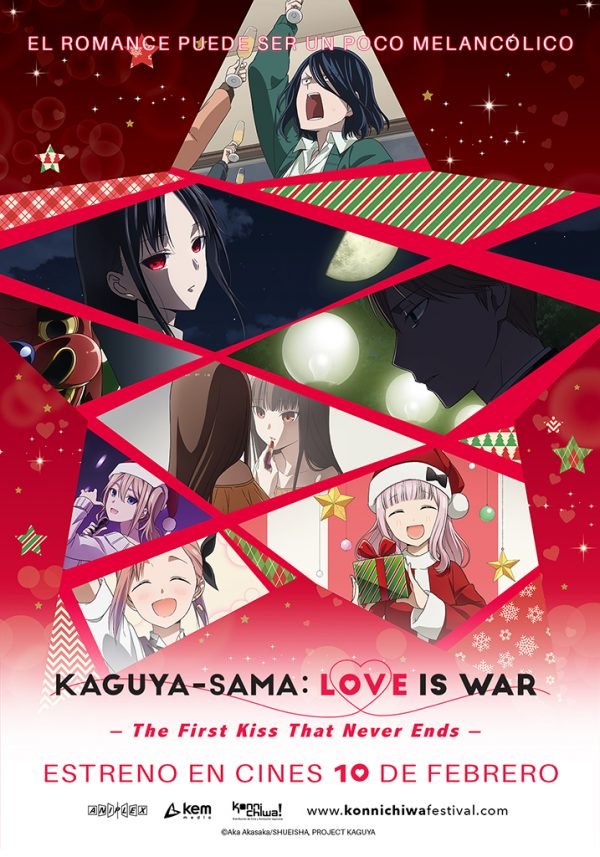 La cinta también se proyectará en Guatemala, Honduras, El Salvador, Costa Rica y Panamá a través de la cadena Cinépolis los mismos días. En Argentina se proyectará del 9 al 11 de febrero, mientras que Chile y Peru tendrán funciones del 9 hasta el 12 de febrero. Colombia, Brasil y Ecuador están aún pendientes para anunciar fechas.
Sinopsis
Una cotidiana y muy especial Navidad los espera. Un par de corazones congelados que se derriten bajo los cielos de Tokio. Un regreso a casa para la mejor comedia romántica del año.
El cuarto del consejo estudiantil, el lugar dónde la vicepresidenta Kaguya y el Presidente Miyuki se conocieron y enamoraron. Después de una larga batalla, estos dos genios al fin pudieron comunicar sus sentimientos y tuvieron su primer beso. Pero al parecer esta no fue una confesión lo suficientemente clara así que la relación de ambos sigue siendo ambigua y ahora los dos son demasiado conscientes de los sentimientos del otro y deben de enfrentarse a su más grande reto: La Navidad.
Una historia de amor muy "normal" de dos genios y un beso eterno.