El estudio de Sucker Punch ha revelado en una publicación en el blog oficial de PlayStation, la fecha oficial de lanzamiento para su esperado juego de Ghost of Tsushima, el cual será para este 26 de Junio de 2020.
El anuncio viene acompañado con un nuevo trailer de historia que se centra en la relación que tiene nuestro protagonista Jin Sekai con su tío Shimura, quien es el señor de Tsushima. También nos muestra el conflicto con el ejercito Mongol invasor y su líder Khotun Khan.
Sucker Punch también ha revelado en la misma publicación, varias ediciones especiales del juego, y si optas por hacer tu reserva, obtendrás algunas bonificaciones para tu juego, un avatar de Jin, una mini banda sonora digital que incluye canciones seleccionadas del juego y un tema dinámico de Jin para PS4 basado en la portada del juego.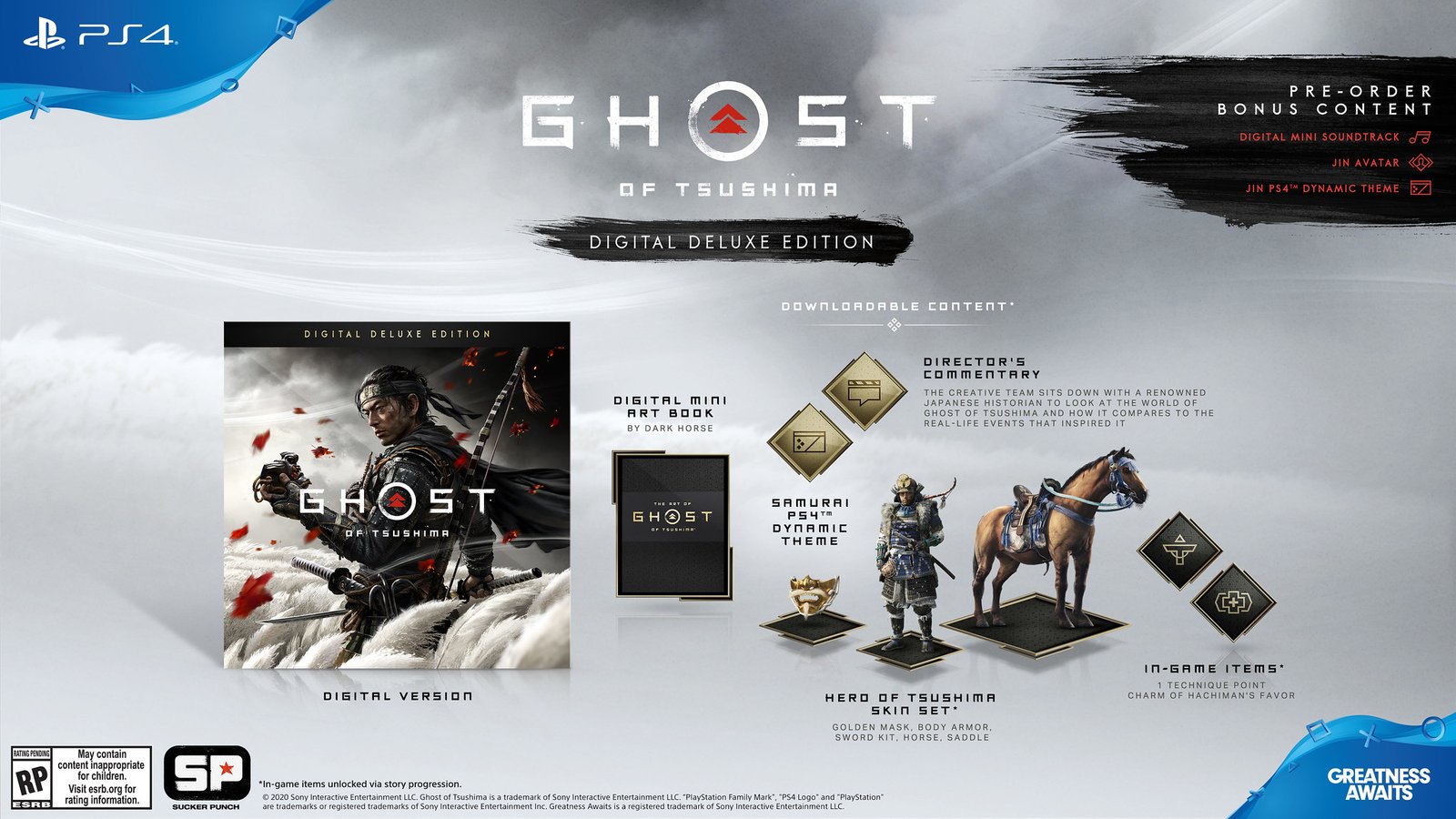 Ghost of Tsushima contará con un Digital Deluxe Edition, que incluye una copia digital del juego junto al conjunto de skins Hero of Tsushima, el cual te da un caballo in-game adicional, una silla de montar, y un conjunto de espada y armadura para Jin. La Digital Deluxe también incluye dos artículos in-game: Charm of Hachiman's Favor y un punto de técnica, así como un tema dinámico Samurái para PS4. También hay un mini libro de arte digital de Dark Horse, y nuestro Comentario del Director, en donde nuestro equipo creativo se sienta con un renombrado historiador japonés para ver el mundo de Ghost of Tsushima y cómo se compara con los eventos de la vida real que lo inspiraron.
Y la Special Edition incluirá un SteelBook y un cupón para una máscara in-game del Hero of Tsushima y un skin de espada*, Charm of Hachiman's Favor, punto de una técnica, el Comentario del Director y el mini libro de arte digital.