El día de hoy, Google ha dado a conocer más detalles sobre su primera plataforma de juegos Stadia, lo que incluye los precios, los juegos que estará ofreciendo y su fecha de lanzamiento, que de una vez adelantamos será durante el mes de Noviembre.
Para empezar, Google ha recalcado que Stadia no es un servicio de suscripción de juegos como los que esta manejando Xbox con su Game Pass, si no que es un servicio de Streaming con su propia tienda digital de juegos, el cual nos permitirá jugarlos en su más alta resolución, mayor tasa de frames y cargas mucho más rápidas, sin necesidad de una consola física.
Hay que tener claro que dependerá de mucho nuestra conexión a internet para poder sacarle todo el poder que nos ofrece Stadia, pues nos pide que contemos con una conexíon mínima de 10MB para poder jugar en una resolución de 720p. Mientras contemos con más velocidad, podemos disfrutar los juegos hasta en 4K/60fps.
Para poder jugar, bastará con que tengamos una pantalla Smartv con acceso a internet, computadora o dispositivo móvil, y un control que pueda conectarse al mismo.
Ahora veremos los costos, ya que Stadia estará ofreciendo dos suscripciones distintas, la Stadia Pro de un costo de $9.99 USD al mes y la Stadia Base que será gratuito, pero con un lanzamiento para el 2020. Cada uno ofrece distintos servicios que verás a continuación:
Stadia Pro ($9.99 USD al Mes)

Resolución: Hasta 4K
Frame rate: 60 FPS
Sonido: 5.1 surround
Compra juegos cuando quieras: Sí
Lanzamiento regular de juegos gratis: Sí y empezarán con ofrecer Destiny 2: The Collection
Descuentos exclusivos en juegos seleccionados: Sí

Stadia Base (gratis) – Lanzamiento en el 2020

Resolución: Hasta 1080p
Frame rate: 60 FPS
Sonido: Stereo
Compra juegos cuando quieras: Sí
Tendremos también el Stadia Founder's Edition por $129 USD, en el que incluirá un Control Stadia de color "Night Blue", un dispositivo Chromecast Ultra, una suscripción de tres meses a Stadia Pro, una insignia de Fundador, un "Buddy Pass" para jugar con un amigo y un Nombre Stadia.
Los Controles Stadia se podrán adquirir por separado aun precio de $69 USD y los podremos encontras en tres colores; blanco, negro y wasabi.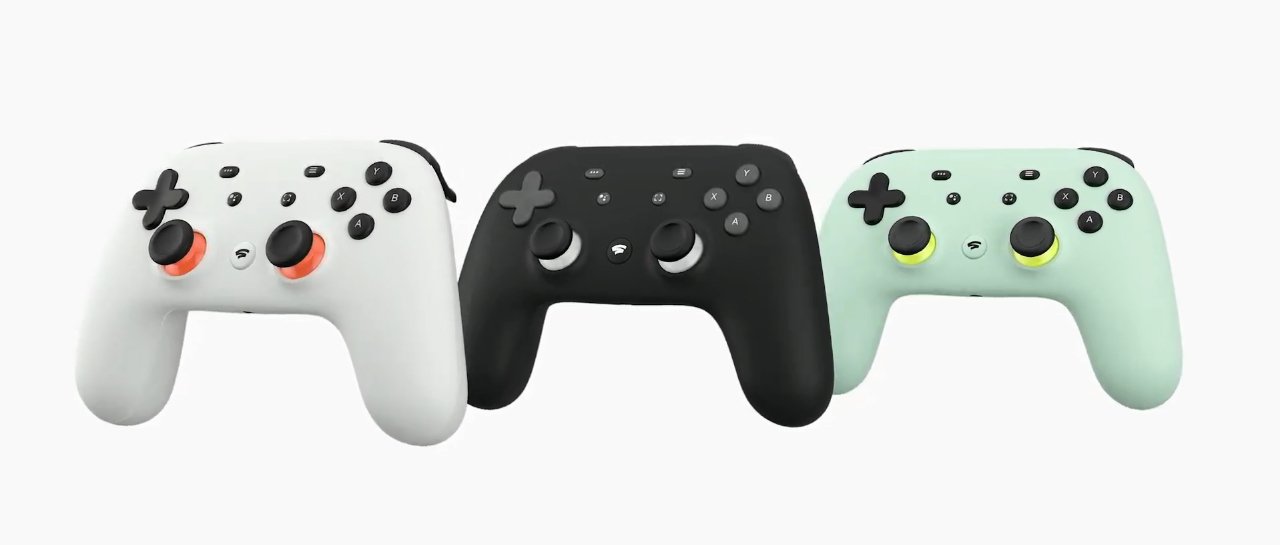 Ya por último, tenemos la lista de juegos que estarán llegando a la plataforma, el cual incluye una gran cantidad de juegos de renombre de grandes estudios como Ubisoft, Bandai Namco, Square Enix y 2K por mencional algunos
Assassin's Creed Odyssey (Ubisoft)
Baldur's Gate III (Larian Studios)
Borderlands 3 (2K Games)
The Crew 2 (Ubisoft)
The Division 2 (Ubisoft)
Darksiders: Genesis (THQ Nordic)
Destiny 2: The Collection (Bungie)
Doom Eternal (Bethesda Softworks)
Dragon Ball Xenoverse 2 (Bandai Namco)
The Elder Scrolls Online (Bethesda Softworks)
Farming Simulator 19 (Focus Home Interactive)
Final Fantasy XV (Square Enix)
Football Manager 2020 (Sega)
Get Packed (Coatsink)
Ghost Recon: Breakpoint (Ubisoft)
GRID (Deep Silver)
Just Dance 2020 (Ubisoft)
Metro Exodus (Deep Silver)
Mortal Kombat 11 (Warner Bros. Interactive Entertainment)
NBA 2K (2K Games)
Power Rangers: Battle for the Grid (nPlay)
Rage 2 (Bethesda Softworks)
Rise of the Tomb Raider (Square Enix)
Samurai Shodown (Athlon Games)
Shadow of the Tomb Raider (Square Enix)
Thumper (Drool)
Tomb Raider (Square Enix)
Trials Rising (Ubisoft)
Wolfenstein: Youngblood (Bethesda Softworks)
Google Stadia comenzará a operar en el mes de noviembre en 14 diferentes países que consisten en Bélgica, Finlandia, Canadá, Dinamarca, Francia, Alemania, Irlanda, Italia, Holanda, Noruega, España, Suecia, Reino Unido y Estados Unidos.
Es una lástima que no figuremos en su lista de lanzamientos, pero Google asegura que el servicio estará llegando a más naciones en los próximos años.