El sitio oficial para la adaptación animada del manga The Demon Girl Next Door (Machikado Mazoku) de Izumo Ito, ha publicado un nuevo video promocional para su segunda temporada que se titulará como Machikado Mazoku 2-Chōme, con un estreno programado para el mes de abril de 2022.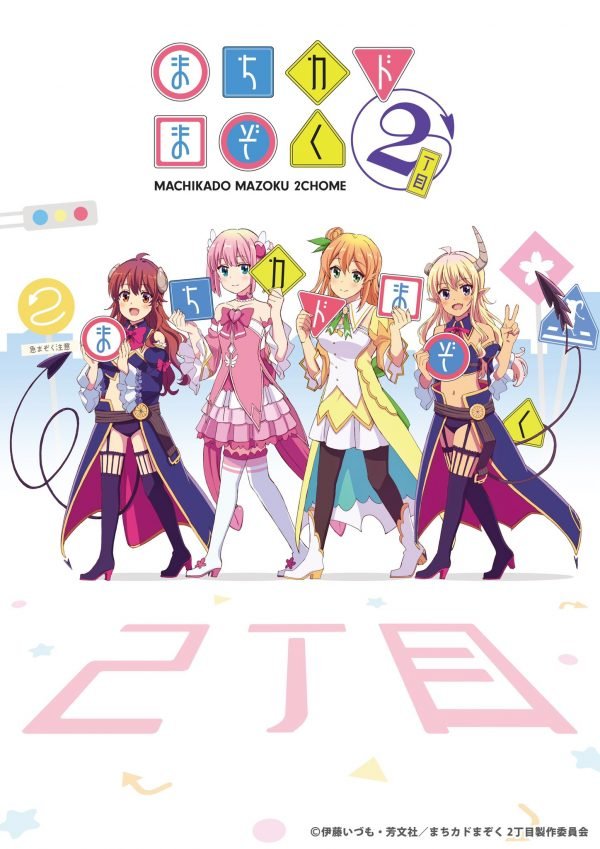 Sinopsis
Yuko Yoshida es solo una colegiala ordinaria, ¡hasta que un día sus poderes inactivos y diabólicos son desatados por el demonio Lilith! Yuko se transforma en Shadow Mistress Yuko, una potencia sobrenatural con cuernos y cola de diablo. Ahora debe derrotar a otro ser místico llamado Momo Chiyoda, la doncella del santuario del Clan de la Luz… ¡que casualmente va a la escuela de Yuko! Pero ser una chica mágica demoníaca no es tan fácil como parece, y Yuko tiene mucho que aprender antes de estar lista para cumplir su destino y enfrentarse al Clan de la Luz.
El elenco principal de la primera temporada estará de regreso, y esto incluye a:
Konomi Kohara como Yūko Yoshida
Akari Kitō como Momo Chiyoda
Minami Takahashi como Lilith
Tomoyo Takayanagi como Mikan Hinatsuki
Sayaka Senbongi como Anri Sata
Ayaka Suwa como Sion Ogura
Hitomi Ohwada como Ryoko Yoshida
Sayaka Ohara como Seiko Yoshida
De igual forma, en el equipo de producción estará retornando Hiroaki Sakurai (Cromartie High School, Maid Sama!, The Disastrous Life of Saiki K.) como el director del anime en J.C. Staff. Keiichirō Ōchi (La Corda d'Oro Blue Sky, Hinamatsuri, The Quintessential Quintuplets) estará nuevamente a cargo de los guiones y Mai Otsuka (Shakugan no Shana, Non Non Biyori, This Art Club Has a Problem!) del diseño de los personajes.