Durante el primer día del "Kadokawa Light Novel Expo 2020", evento que se llevó a cabo este sábado, se emitió un video promocional para la adaptación a anime de la serie de novelas ligeras de 86: Eighty-Six escritas por Asato Asato e ilustradas por Shirabi, en la que revela su fecha de estreno para este 10 de abril.
El sitio oficial se ha actualizado con el segundo video promocional, así como nuevo arte visual, con la lista del elenco que participará y los artistas que interpretaran los temas musicales.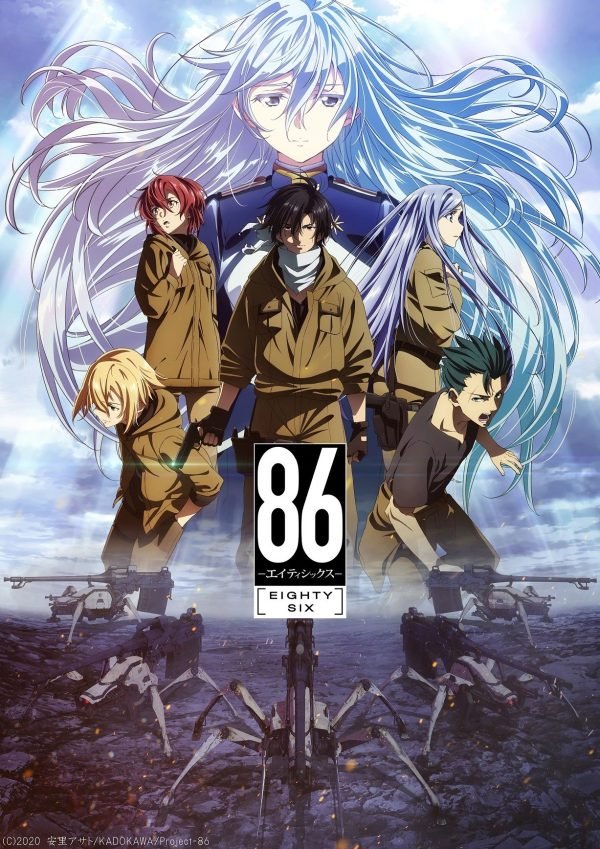 La República de San Magnolia ha sido atacado por su vecino, El Imperio. Más allá de las murallas que protegen los ochenta y cinco territorios de la República se encuentra el "inexistente" "Sector Eighty-Six".
Los hombres y mujeres jóvenes de esta tierra abandonada son marcados como "Los Eighty-Six" y, despojados de su humanidad, conducen las armas "no tripuladas" a la batalla. Shinn dirige las acciones de estos jóvenes terroristas suicidas, mientras que Lena, una "manipuladora", comanda el destacamento desde la parte trasera remota con la ayuda de una comunicación especial. Así es como inicia la trágica historia de lucha entre estos dos.
Hitorie interpretará el tema de apertura con la canción "3-bun 29-byō" (3 minutos 29 segundos), y SawanoHiroyuki[nZk]:mizuki el tema de salida con la canción "Avid".
El personal que estará elaborando en el anime esta integrado por Toshimasa Ishii (Space Brothers, ERASED, Occultic;Nine) quien estará a cargo de la dirección de este anime en los estudios de A-1 Pictures. Toshiya Ono (The Promised Neverland, Land of the Lustrous, Blue Exorcist: Kyoto Saga) estará a cago de los guiones, y Tetsuya Kawakami (Interviews with Monster Girls, Robot Girls Z, The Asterisk War: The Academy City on the Water) se encargará del diseño de los personajes. Shirogumi estará produciendo el CG, mientras que Hiroyuki Sawano y Kohta Yamamoto contribuirán con la música.