Hoy es un día especial para Sony, ya que el día de hoy (29 de junio de 2020) se cumplen 10 años del servicio de PlayStation Plus, así que aparte de anunciar los juegos que tendremos durante el mes de julio, la empresa aprovecho el momento para dar un mensaje de agradecimiento a todos los que han apoyado el servicio y publicó una tabla de estadísticas de como rindió el servicio en esta última década de vida.
Ya han pasado 10 años desde que PlayStation Plus salió al mercado el 29 de junio del 2010. Realmente les agradecemos a todos por apoyar a PS Plus en la última década. Ha sido un viaje memorable durante estos años, en los que hemos podido juntar a los gamers y brindado acceso a contenido atractivo y descuentos exclusivos para nuestros miembros. No estaríamos aquí sin todos ustedes. Por eso, como agradecimiento, queríamos hacer que este anuncio de los próximos juegos mensuales fuera extra especial agregando un juego extra a nuestra increíble línea.

Nick Maguire
Gerente general, Servicios de Tienda Global
En esta ocasión tendremos 3 juegos para el PlayStation 4, NBA2K20, Rise of the Tomb Raider: 20 Year Celebration y ERICA, todos disponibles desde el martes 7 de julio y hasta el 3 de agosto.
NBA2K20 es el juego por excelencia de Basketball de 2K, cuenta con una gran selección de equipos de la liga NBA y de la WNBA, excelentes graficas realistas de los jugadores profesionales, así como un modo campaña en donde personalizas a tu propio jugador.
Si lo tuyo es la aventura y la acción, pasaras un buen momento con Rise of the Tomb Raider: 20 Year Celebration, el segundo juego del reboot de la serie. Volveremos a tener el control de Lara Croft mientras se aventura en busca de la ciudad perdida de Kitezh en medio de las montañas nevadas de Siberia.
Y el último juego es ERICA, una aventura narrativa cinematográfica con controles táctiles que podremos usar desde nuestro Smastphone. Controlaremos a Erica, una valiente joven abrumada por las pesadillas del asesinato de su padre. Dependerá de nosotros en desenterrar la horrible verdad detrás de esta devastadora tragedia.
Para jugar este último juego, tendremos que contar la aplicación complementaria ERICA, una conexión Wi-Fi y un smartphone con iOS (iOS 9.0 o posterior) o Android (4.1 y posterior) compatible.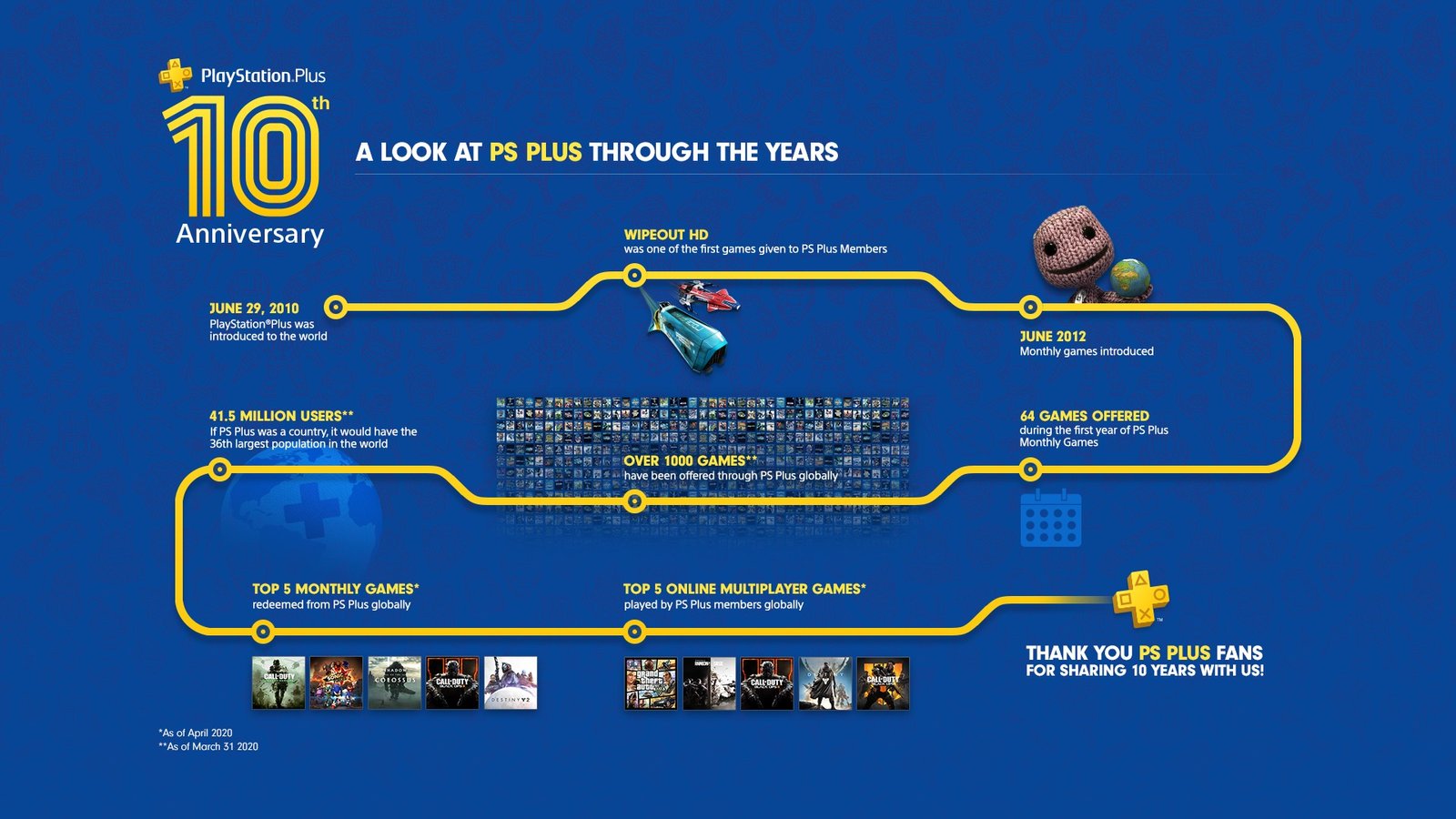 Por último tenemos una pequeña tabla con estadísticas del servicio de PlayStation plus, en la que destaca que el servicio cuenta hasta la fecha con 41.5 millones de usuarios.
Los juegos gratuitos más reclamados fueron Call of Duty: Modern Warfare Remastered, Sonic Forces Shadow of the Colossus, Call of Duty: Black Ops 3 y Destiny 2
Y los títulos multijugador más jugados por los usuarios de PlayStation Plus son Grand Theft Auto 5, Tom Clancy's Rainbow Six: Siege, Call of Duty: Black Ops 3, Destiny y Call of Duty: Black Ops 4.