Después de mas de 15 años trabajando en Nintendo of America, 13 de ellos como Presidente y COO, Reggie Fils-Aime se retira dejando su cargo a Doug Bowser, quién es el actual Vice Presidente Senior de Ventas y Mercadotecnia, esto será a partir de este 15 de Abril, según a informado Nintendo en un comunicado.
"Realmente aprecio todo lo que Reggie ha hecho por Nintendo", dijo Shuntaro Furukawa, presidente de Nintendo. "Dentro y fuera de nuestra empresa, Reggie es conocido como un líder excepcional. Estamos agradecidos de que esté dejando el negocio en buena forma con un fuerte impulso. Si bien lo extrañaremos y le deseamos lo mejor en su jubilación, también nos complace tener un sucesor capaz listo para asumir ese papel. Doug Bowser y el resto del equipo garantizarán una transición perfecta y un impulso continuo para Nintendo".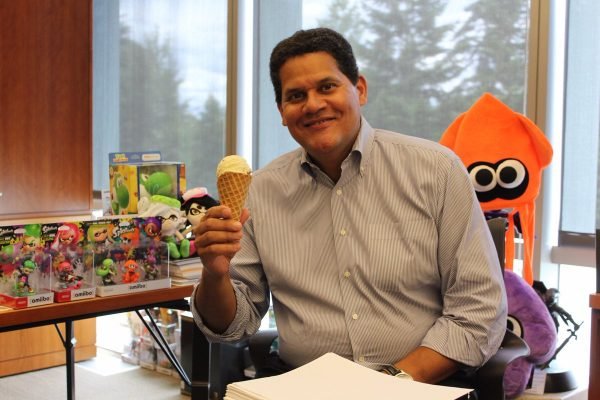 Reggie, aparte de ser el Presidente, fue quién le dio rostro a la compañía nipona en América con su singular carisma al asistir a un gran numero de eventos, entrevistas y Nintendo Directs en la última década. Reggie tomó la presidencia en el 2006 durante la era del GameCube y el Game Boy Advance, ayudo expandir la marca de Nintendo en nuestro territorio e impulso grandes proyectos y fenómenos como Nintendogs, Brain Age, Wii Sports y Wii Fit.
"Nintendo tendrá para siempre una parte de mi corazón", dijo Fils-Aime. "Es una parte que está llena de gratitud, por las personas increíblemente talentosas con las que he trabajado, por la oportunidad de representar una marca tan maravillosa y, sobre todo, por sentirme como un miembro de la comunidad de jugadores más positiva y duradera del mundo. Espero salir con buena salud y buen humor, esto no es un game over para mí, sino un leveling up para pasar más tiempo con mi esposa, mi familia y mis amigos".
Mientras tanto Doug Bowser se unió a Nintendo en el 2015 como Vicepresidente de Ventas y al año ascendido a Vicepresidente Senior de Ventas y Marketing. Bowser dirigió los esfuerzos de ventas y marketing para Nintendo Switch, el cual se ha convertido en el sistema de videojuegos más vendido de esta generación.
"Ha sido una gran fortuna trabajar con Reggie durante cuatro años en Nintendo of America", dijo Bowser. "Y ten la seguridad de que continuaremos desarrollando su trabajo para evolucionar y expandir nuestra marca, fomentando la misión global de Nintendo de crear sonrisas. Hay millones más de estas cosas en camino".
Anteriormente, Bowser era empleado en Electronic Arts y era vicepresidente de planificación comercial global de la compañía. También trabajó en Procter & Gamble en varios puestos de liderazgo en ventas en Asia, América Latina y Estados Unidos.
Update: Reggie nos ofrece un mensaje
Nintendo fans, Reggie has a message for all of you. Please take a look. pic.twitter.com/EAhaEl5oEJ

— Nintendo of America (@NintendoAmerica) February 21, 2019
Via: Comunicado de prensa / GoNintendo