La versión de Playstation 4 de PlayerUnknown's Battlegrounds ha revelado un evento especial en colaboración con el titulo de Horizon Zero Dawn, el cual estarán ofreciendo un traje temático y skin inspirado en el juego, tal y como lo hicieron con Uncharted y The Last of Us anteriormente.
"Nuestra colaboración con Horizon Zero Dawn sigue los pasos de los contenidos anteriormente añadidos de Uncharted y The Last of Us. Para unir estas dos IPs tan diferentes, PUBG Corporation y Guerrilla Games han colaborado estrechamente en el concepto, diseño y producción de los elementos" dice Taehwan Noh de PUBG Corporation. "Como fans de Horizon Zero Dawn, los resultados han superado nuestras expectativas y estamos deseosos de ver a los jugadores utilizarlas dentro de nuestro juego."
En una publicación oficial en el sitio oficial de PUGB, se dio a conocer esta colaboración y los objetos que estarán ofreciendo durante este evento que iniciará el 5 de marzo y finalizá el 5 de abril.
El primer objeto es el Eclipse Top el cual te lo regalaran con el simple hecho de conectarte al juego. La Eclipse Mask y la Sartén te lo darán al cumplir los objetivos de jugar 10 partidas y matar 10 jugadores con la ballesta respectivamente. Y por último tenemos el Eclipse Kar98k el cual podremos comprar por 8,000BP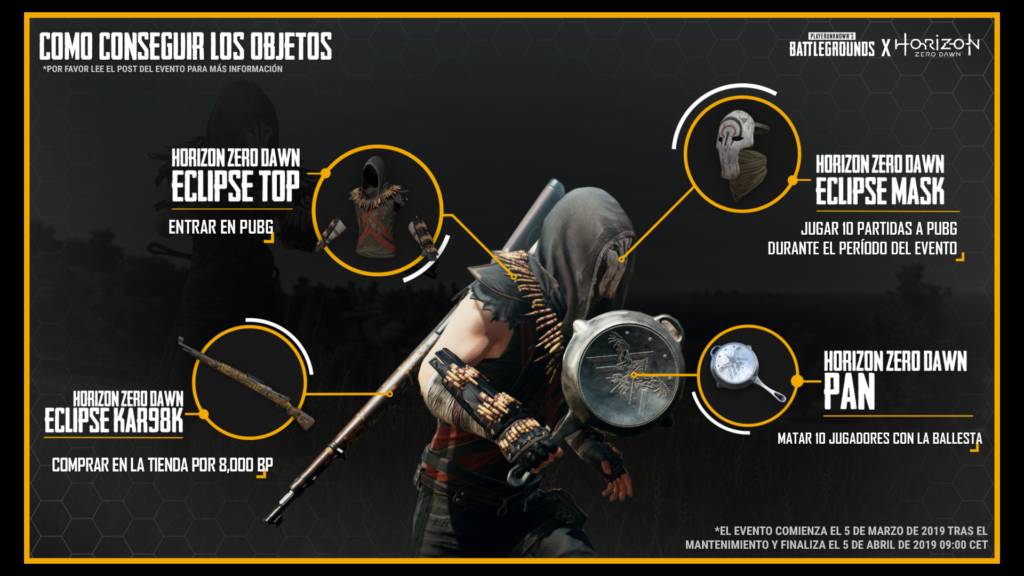 Prácticamente todos los objetos se pueden sacar fácil solo con jugar PUBG, no se requiere que metamos de nuestra cartera para desbloquearlos.