Al final del Torneo de League of Legends en Incheon, South Korea, el estudio de Riot Games mostró un nuevo video musical llamado "Pop/Stars". La banda detrás de la canción se conoce como K/DA, y está formada por cantantes reales, incluidos dos miembros del grupo de K-pop (G)I-dle. Sin embargo, el video lo protagoniza personajes del juego de League of Legends para promocionar nuevos Skins para el juego.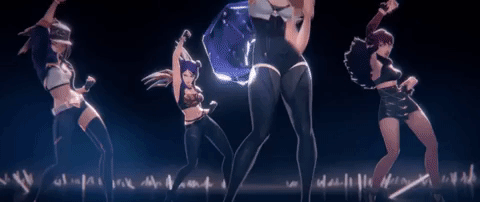 Con el grupo de K/DA es cómo Riot Games está promoviendo la nueva línea de cosméticos para cuatro campeones de League of Legends: Ahri, Akali, Evelynn y Kai'Sa. A cada campeón se le dio una historia de fondo especial que acompaña a sus nuevas skins, así como un complemento presentado en la ceremonia de apertura en Worlds.
Según el sitio web de League of Legends, Ahri y Evelynn son los vocalistas principales, Kai'Sa es la bailarina principal y Akali es la rapera.
Los nuevos skins cósmeticos se podrán adquirir por $10 USD cada uno. Fueron diseñados de esta manera para coincidir con la ceremonia de apertura de las Finales del Campeonato Mundial 2018. ¿Qué mejor manera de abrir el último partido que con una canción pop?. A continuación puedes ver el trailer de los skins.